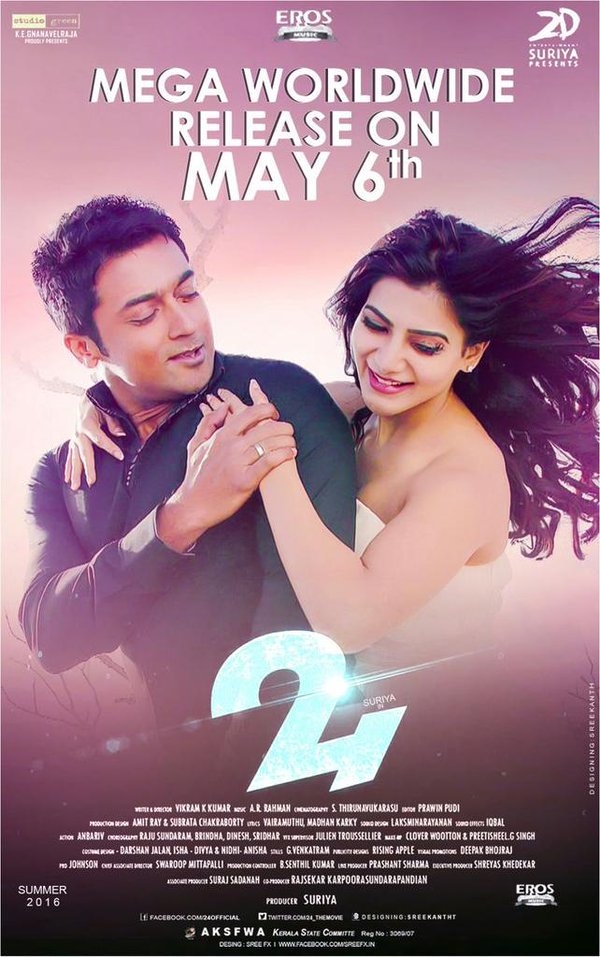 "24", one of the most anticipated South Indian flick, featuring   Suriya, Samantha and Nithya Menon is now here for you.
"24" Story:
The storyline of sci-fi thriller 24 is quite trouble free. Based on the vicinity of a watch, invented by Sethuraman (Suriya), the movie can be described as an interesting game between two avatars.
The overall battle at this point is to take possession of the watch, which has been invented to control the time.
While Athreya (Suriya), a dangerous don, endeavors to get hold of the watch, it is Mani's (Suriya) accountability to carry on to his father's amazing creation.
Actors & Performances:
Not surprisingly, it truly is Suriya the entire way, as he pulls off the roles of Sethuraman and Athreya with his marvelous performance.
At the same time Mani, who fixes watches for a living did a wonderful job . Athreya fulfils all your anticipations to the fullest extent.
Despite the fact that Nithya Menon has very limited time as well as space on the screen, she simply nailed it.
Samantha clearly has much more opportunity to perform, which she has succeeded.
Technical Aspects: 
From a technical perspective, 24 is a great example. Made using a budget of approximately 75 Crore rupees, the film could create you believe as if you are experiencing a movie worth much more than actual budget.
Production values of 24 is definitely astounding. Cheers to every single technician who has invested knowledge in this project. Precisely what sticks out quite possibly the most is Tirru's cinematography.
Writing and screenplay by Vikram Kumar is effective. However, with the exception of a handful of romantic scenes plus an unneeded song, 24 can be described as great scientific thriller.
Even though 2nd half is a tiny bit slow-moving, the movie has powerful elements to connect you throughout.
To tell the truth, AR Rahman's music is not up to the level. While background score is merely normal, his songs are made acceptable by terrific visuals.
Conclusion: 
This film might just end up being one of the most memorable science fiction thrillers. Indeed, it has its weaknesses, but they are not countable compared to strengths.
Verdict:  Unique plus creatively treated!!
Rating: 3.5/5.0
Whether it is breaking news or a view, your contribution can make a huge difference. Are there topics you want to get people talking about? ... Email us at team@manateluguguru.com